This is an update to an article that I wrote back in 2019. This time around I created a video to go along with the written explanation and documentation below. You can jump straight to the video below if you prefer that medium.
What is Calendar Over Run?
Consider the example below where the CalendarYear is filtered for 2019 and the values of the measures Total Sales and Total Sales YTD are displayed by month. As you can see, the total sales are shown up to July 2019. This is because with the sample data, the last sales date is somewhere in July 2019. However, the values of Total Sales YTD are repeated all the way until the end of year (July 2019 to December 2019). This is what I call Calendar Over Run. It is common to want to prevent this overrun.
Solution Overview
There are at least 2 ways of solving this problem that I am going to show you. Firstly, let's look at the 2 measures –
Total Sales = SUM(Sales[ExtendedAmount])
Total Sales YTD = TOTALYTD([Total Sales],Calendar[Date])
Solution 1
You can write an if statement and filter out the blank values so that they are not displayed.
Total Sales YTD = IF ([Total Sales] = 0, BLANK(), TOTALYTD([Total Sales],Calendar[Date]))
Then, the visual displays values only up to July as shown below.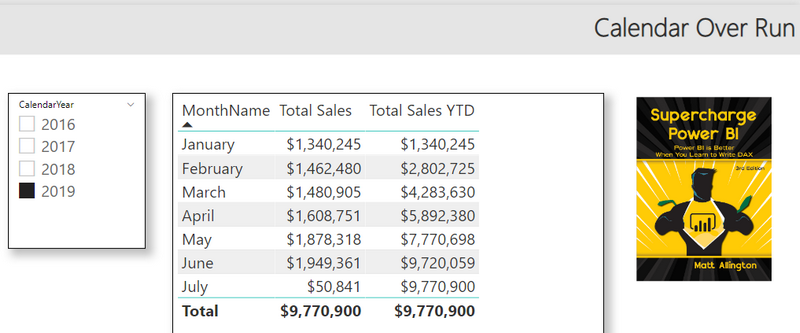 Solution 2
There is another way to solve this problem that is my preferred solution – by using a calculated column. This is one of those exceptions where a calculated column is a better approach to a measure; the new column only has 2 unique values and is in a dimension table – it does not take up much disk/memory space.
To start with I have changed the Total Sales YTD formula back to the way it was.
Total Sales YTD = TOTALYTD([Total Sales],Calendar[Date])
Then I wrote a calculated column in the Calendar table as follows:
Past Date = IF ('Calendar'[Date] >= Date(2019,8,1), "Future Date", "Past Date")
Note that in the formula above, I hard coded the date to be 1st August 2019. I did this for illustrative purposes. You would normally use the TODAY() function to get the current date and use that instead, that way the calculated column is updated on each refresh to reflect the current date.
Next, I placed Past Date on in the filters pane, Page Filters and filtered out Future Date as shown below.
Once deployed, this returns the same result as before.
Watch the Solution on Video
I recorded this short video stepping through the entire process.