On the surface, Power BI looks like an easy to learn Microsoft tool, however what most people think they need to learn is often not even half of what they need. There is so much to learn to be good at using Power BI.
In summary you need to learn the following:
Data Acquisition:  In short, this is the process of fetching your data from wherever it lives, importing it into Power BI while cleaning and shaping it to meet your needs.  Power BI has a revolutionary tool built in it to help you do this called Power Query. You get to access this tool from Get Data in the Power BI menu.
Data Modelling:  This is the process of taking your data and turning it into something more useful than just raw data so you can extract the key insights.  Power BI has an in-built engine to help you do this.  The data modelling language is DAX (Data Analysis and Expressions). Once you learn how to write DAX you will be well on the way to becoming a Power BI expert.
Data Visualisation: Once you have loaded your data and have the database designed to answer the business questions you have, you then need to visualise the data.  Power BI has a brand new visualisation engine that is in a continuous state of improvement.
There is a bit of a hump to get started, but with a small amount of guidance you will be off and running.
About Matt Allington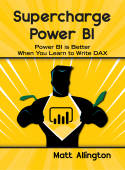 Matt Allington is a data platform expert and has been training Power BI for more than 5 years. Not all Power BI training is created equal.  The training courses on this site are developed by Matt Allington who is a Microsoft MVP specialising in the Microsoft Self Service BI Products. Matt has the ability to transform the seemingly complicated into easy-to-comprehend learning experiences.
Matt is the author of the best selling books Supercharge Power BI and Supercharge Excel.
There are various online learning options to suit your geo-location, time, requirement and level of expertise.
The various service offerings available are shown in the table below.
Once you have completed your training, Matt can help you with post training coaching and support to help you implement what you have learnt using your own data.  See the bottom of this page for more information.
Live Instructor Led Training
Power BI Live Online Training
Matt and his accredited trainers deliver live, instructor led online training for different timezones throughout the year. The training runs live, online, for 2 days or 4 half days depending on the timezone.
Module 1: Foundations of Power BI – Data to Dashboard (6.5 CPD hours)
Module 2: Extracting Data Insights with Power BI and DAX (6.5 CPD hours)
At the end of the 2 modules you will be well on your way to becoming a Power BI ninja.
All participants will receive the certificate of completion at the end of the course.
Participants registered for module 2 will receive a copy of Matt's book "Supercharge Power BI".  If you have a postal address in the USA or Australia, you will receive both a paperback and the eBook. All other countries will receive the eBook (sorry).
Demystifying DAX – Advanced DAX Live Online Training
Matt delivers this Intermediate-Advanced DAX training course using his extensive knowledge of DAX and his commending experience in training and consulting to make the training practical and relevant.  The training covers the more complicated advanced principles of data modelling using Power BI and the DAX language in different areas to solve the real world business problems. 
Video On Demand Online Training
Power BI Video On Demand Online Training
If you don't want to attend the live, instructor led online training course, you can instead take the same course as a pure video on demand training.  It is the same content, but lacks the active participation of a live interactive session, and of course it is not possible for you to ask questions for clarification.  Having said that, it is the same content.
Foundations of Power BI – Data to Dashboard
Do you want to have a kick-start on using Power BI to create and share reports? Then this is right course for you. You will understand the Power BI Desktop features and learn how to create different types of reports. You will also learn how to share your reports, create Dashboards on Power BI.com, use the Power BI features such as Q&A, Quick Insights, Analyze in Excel, etc.
You will also get an introduction on Power Query to load and shape data to put it in the required format for preparing the reports.
You can find the Foundations of Power BI – Data to Dashboard Training course content and details here.
Extracting Data Insights with Power BI and DAX
If you want to be good with Power BI, you must learn how to become a data modeller. This training course covers the details of Power BI Data Modelling with DAX (the data modelling language of Power BI). The DAX concepts are difficult to pick up via self learning but the expert approach from this video on demand training course makes it easy to comprehend for any learner. 
Power Query Academy
Power Query is a revolutionary tool to help Power BI Professionals get easy access to the data they need to do their job.  Power Query is easy to learn, and you can super charge your learning experience with this Video on Demand Training course specifically targeted to you. This is a self-paced course with worked out examples illustrating the concepts. You can use the sample workbooks provided with the course material to follow through the examples and practice yourselves.
The training has 3 levels – Fundamentals, Essentials and Advanced. You can either get all the levels as a bundle or first try out Fundamentals as a free course.
You can find the course content for Power Query Academy here.
Semester based Online Training with live Q&A
Supercharge Power BI Online Training
As an alternative to the pure video on demand version, you can instead learn from Matt's book with associated videos and live Q&A sessions with Matt.  This is a high quality Online Power BI training course that will teach you how to get the most from this tool.  Participants of this hands-on Power BI online training program will soon realise there is so much more you can do with Power BI once you learn to write DAX.
This Power BI online training course is a combination of:
Self-paced remote learning using one of Matt's books – Supercharge Power BI or Supercharge Excel. (3 hours per week for 7 weeks – 21 CPD hours).  The books contain many worked through examples and practice exercises to cement your learning.
Weekly video based training with examples and demos to support the complex topics in the book. (1 hour per lesson for 5 lessons – 5 CPD hours)
Weekly live screen sharing Q&A sessions with Matt Allington. (1 hour per week for 5 weeks – 5 CPD hours)
Total CPD hours = 21+5+5 = 31 hours.
This online Power BI training course will teach you how to use the data modelling capabilities in Power BI Desktop.
All participants will receive the certificate of completion at the end of the course.
Supercharge Power BI Online Training details and next semester schedule can be found here.
Corporate In-House Training
Currently the live, in-house face to face training is on hold due to the Coronavirus outbreak.  But we have been delivering the training as live online instructor led training to our customers.
If you want a customised training with your data and/or have more number of people to be trained you can opt for a tailored in-house training course.  To discuss your specific needs and understand how this training can help you achieve your goals, contact Matt to discuss today!  Give the details in the form provided here.
Remote Help & Support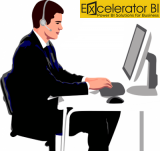 You may have working knowledge of Power BI but need help from time to time to solve complex business problems and/or create reports with the changing needs. You can get remote help and support in such cases. Read more information here.
Power BI Coaching and Consulting
One of the challenges of getting started with Power BI is getting over the hump of there being so much to learn. It is not that you can't do it, it is just that most people need some help getting started. This is where Matt Allington comes in. There are many ways you can leverage Matt's skills, knowledge and experience.
Matt can:
Come on-site and meet with the key people in the organisation that want to get started with Power BI. This can be one or more people depending on the circumstances.
Work with you online remotely anywhere in the world to help you find your way.
Deliver training to the key Power BI business users so they can learn the skills needed to be successful.
You can find more about Power BI consulting here