I am really looking forward with anticipation and excitement about the future of http://PowerBI.com.  Microsoft has just released the August 2015 update to Power BI Desktop just 1 month after PowerBI.com becoming generally available (GA). Power BI Desktop used to be called Power BI Designer, and it is the tool you can use on your PC to create Power BI dashboards.  In short, Power BI Desktop is a lot of different software products in one; Power Query, Power Pivot, Power View, Power Map etc to name a few.
Where do I get the update?  I maintain an up to date list of all the important Power Downloads on my Knowledge Base here.
Killer Feature One – Import your Excel 2013 Workbook Data Model
When Power BI became generally available last month, I decided to give it another try.  I have built some very comprehensive Power Pivot Excel Workbooks over the last year for some of my clients, and I wanted to see what they would look like on PowerBI.com.  Unfortunately I discovered that I could not import the work that I had completed in my Excel 2013 data model into Power BI Desktop.  But all that is now fixed with the Aug-15 update.  The new import wizard will import your Excel 2013 Power Pivot data models as well as the Power Query workbooks, Power View sheets etc.
Why is this so important?
I have invested A LOT of effort building Power Pivot and Power Query workbooks for clients.  It is really not practicable to go back and start again just to "kick the tyres" of this Power BI thing.  What I really want to do is take the work I have done and see how I can visualise the material with Power BI.  This new feature has opened up the possibility for me to do this.
How does it work?
After you have downloaded and installed the latest version of Power BI Desktop, start the program and then immediately close the wizard that pops up.
Then follow the steps below to import a model from an existing workbook.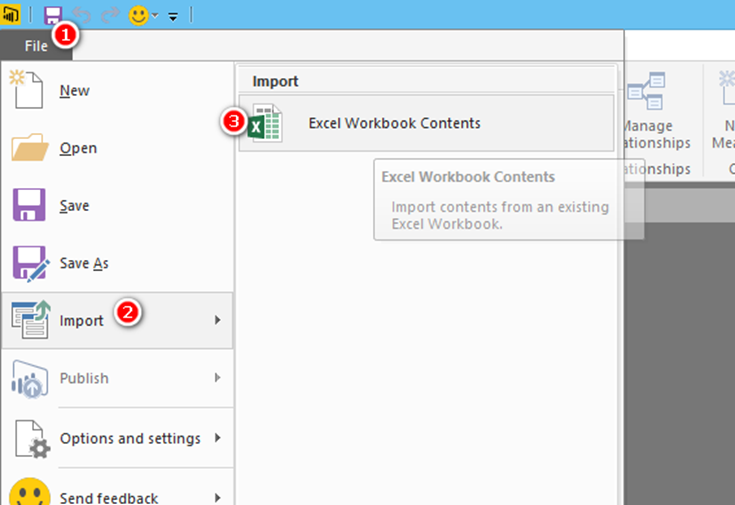 you will then see this message
the "Learn More" link provides information about how it all works as well as what is not yet working.  It is worth a quick look at this.  Then click start.
When I did this with one of my workbooks, the import wizard stopped and asked me if I wanted to import my Linked Tables into Power BI Desktop, or if I wanted to simply connect to the linked tables from Power BI Designer (see below) – NICE!
Finally I got a confirmation dialog – a really long one.  It brought in all my queries…
..my data model tables.  Note these 2 lists are the same, so I assume when it says "Queries" it means the connections to these tables…
..and also all 89 Measures (you can see why I didn't want to start from scratch with this in Power BI).
Killer Feature Two – Split your Queries into Two
The second feature I REALLY like is the ability to take an existing Power Query "Query" and split it into two separate queries.  I have needed this a lot in the past and I am sure I will use it a lot.
Why is this a good feature?
One of the great things about Power Query is that it is a tool that you can just fire up and work it out as you go.  You don't need to write a functional specification and send it to IT for triple sign off and board level approval before you start work – you just start.  Personally I LOVE this way of working because by the time you have documented what you think you want to do, you could be 75% finished building version 3.0 of what you actually need.  Secondly when you are documenting what you "think" you want to do, often you find out later that this was wrong anyway.  It is very common that you only find out what you really need AFTER you build something that you THINK you need.  So Power Query (and Power Pivot) is great for that.
So with this new "split query" into two feature, you can retrace your steps and make a decision "after the fact" to take your current query and turn it into a base master query (or staging query) from which you can then point multiple additional secondary queries.
Take a look at the official video from Miguel Llopis at the Microsoft release website to see both of these features and more.
http://www.jenunderwood.com/2015/08/26/august-2015-microsoft-bi-world-news/
If you want a comprehensive lesson on how to use Power Query, checkout my training course here https://exceleratorbi.com.au/power-query-online-training/