Best in Class Power BI Training
Jump directly to 2019 Power BI Live Training Calendar
This live public Power BI training course is also available as private, onsite corporate training.  If you prefer to learn online, then take a look at my Power BI online training, by clicking on the link.
Why this Course is Different/Better
Not all Power Pivot, Power Query and Power BI training is created equal.  This training course was developed and is taught by Matt Allington who is a Microsoft MVP specialising in the Microsoft Self Service BI Products. When it comes to Power BI training, Sydney sider Matt has the ability to transform the seemingly complicated into easy to comprehend learning.
One or Two Days Training?
The course is for 2 days (check below for the dates in your location) and the course coverage is as given below.
This Power BI training course can be taken as a standalone 2-day course, or as two separate training programs.
1 Day Introduction to Power BI (6 CPD hours)
1 Day Data Modelling with Power BI and Power Pivot (6 CPD hours)
1 Day Introduction to Power BI
This one day course is the first day of the two day training and covers all you need to know to start using the Power BI suite of tools without expecting you to be a programmer. The topics include
How to use Power BI Desktop.
In depth coverage of building visuals and reports using Power BI Desktop.
 Sharing your reports with dashboards and work spaces using PowerBI.com.
Introduction to Power Query, and hands on learning of several reusable patterns that cover common use cases for loading ad hoc data.
1 Day Data Modelling with Power BI and Power Pivot
This one day course is the second day of the two day training and goes on to focus on teaching business analysts how to model data using Power Pivot. Power Pivot is the core technology that makes all the analytical power of Power BI possible. Unlike some other learning resources, this course dives deep into the details of Power Pivot teaching you everything you really need to know to be good using all of these tools.
The term "Data Modelling" is not something that is familiar to most Excel Pros, and that is because data modelling has historically been done by IT on your behalf. But if you want to be good with Self Service BI using the Microsoft tools, you must learn how to become a data modeller using Power Pivot – this is exactly what you will learn in this class. Although the concepts are difficult to pick up via self learning, the expert approach from this live training course makes it accessible to any Excel Pro. The topics include
Overview of the DAX language (Data Analysis Expressions).
Common functions in the DAX language.
How to write formulas that leverage multiple tables.
The CALCULATE function – the most important function in DAX.
Advanced concepts including table functions such as ALL, FILTER.
Time Intelligence
At the end of the 2 days you will be well on you way to becoming a Power BI, Power Pivot and Power Query ninja.
All participants will receive the certificate of completion at the end of the course.
Participants registered for the 2nd day of training will receive a free copy of the book "Supercharge Power BI".  If instead you would prefer a copy of "Supercharge Excel", please indicate this when you place your order. With these books you can continue your learning after the live training using the same familiar learning style covered in the course.
If you are simply wanting to buy Matt's Supercharge Power BI book, which is regarded by many as the best Power BI book, please follow this link.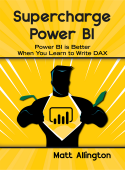 Full details of the course are covered in this downloadable course brochure.
Click here to download the brochure
Course Locations and Dates
The 2019 Training dates can be seen in the table below. There is an early bird special offer if you book and pay 1 month in advance.
Bulk discounts are available when you register and pay for 3 or more people at the same time.
Register and pay for 3 people, get 10% discount on total amount
Register and pay for 6 people, get 20% discount on total amount
Training will be located at a suitable central location in your capital city (depending on numbers).
Locations
Dates
Registration
Adelaide

There are no live training sessions currently planned for Adelaide but you can still learn from Matt's courses.
If you prefer live training, you may like to consider attending a live session in Melbourne (see dates below),
or you can contact Matt to organise in-house training if you like. Take a look at private, onsite corporate training.
Alternatively you can attend one of Matt's Online Power BI training courses.

Melbourne

Mon 11th & Tues 12th February 2019
Mon 20th & Tues 21st May 2019
Mon 29th & Tues 30th July 2019
Thurs 19th & Fri 20th September 2019
Mon 11th & Tues 12th November 2019



Brisbane

Mon 4th & Tues 5th February 2019
Mon 14th & Tues 15th October 2019

Please Note:

New dates in 2020 will be announced shortly



Sydney

Thurs 31st January & Fri 1st February 2019
Mon 25th & Tues 26th March 2019
Thurs 16th & Fri 17th May 2019
Mon 8th & Tues 9th July 2019
Thurs 12th & Fri 13th September 2019
Mon 21st & Tues 22nd October 2019

Please Note:

New dates in 2020 will be announced shortly



Perth

There are no live training sessions currently planned for Perth but you can still learn from Matt's courses.
If you prefer live training, you may like to consider attending a live session in Melbourne, Sydney or Brisbane (see dates above),
or, you can contact Matt to organise in-house training if you like. Take a look at private, onsite corporate training.
Alternatively you can attend one of Matt's Online training programs.

Hobart

There are no live training sessions currently planned for Hobart but you can still learn from Matt's courses.
If you prefer live training, you may like to consider attending a live session in Melbourne (see dates above),
or, you can contact Matt to organise in-house training if you like. Take a look at private, onsite corporate training.
Alternatively you can attend one of Matt's Online training courses.

Online

There aren't any Public Training events near you? You may be interested in an Online Training Course available in your time-zone: