Matt Allington (Microsoft Power BI MVP) has been delivering Power BI training in Brisbane for more than 4 years and has more experience teaching Power BI than any other individual in Australia.  There are normally 4-5 Power BI Brisbane training courses each year.  The location depends on the number of participants in each course, but most often the training is held at Regus at either Creek Street or Anne Street in the Brisbane CBD.
Power BI is Microsoft's newest analytics and visualisation tool built with the needs of Excel users in mind.  Microsoft Power BI can do many wonderful things that make this product very compelling, including:
Automate the process of refreshing your reports each day/week/month without any human  intervention.  This has the potential to save the average user 5 – 10 hours per month (it's like having an extra day to complete the same amount of work).
Create reports and dashboards that people will WANT to read.
While attending this Brisbane Power BI training, you will learn the things you need to know so to take you from an average user to a great user. The training course is almost entirely hands on so you will learn by doing it yourself.  Key takeaways include the knowledge how to:
Import data from where ever it rests (from Excel, TXT, SQL Server etc).
Prepare the raw tables for use inside Power BI.
Build new reports using many of the great features in Power BI that are harder to find in the tool.
Share your work with others, both external and internal to your organisation.
Learn the language of Power Pivot and Power BI (Called DAX). You need to learn how to write DAX if you want to stand out from the crowd.  Anyone can drag a single column into a chart, but if you want to generate true insights from the data, you must learn some DAX.
Power BI Training Brisbane Location

Both Regus Creek Street and Regus Anne Street are within 2 minutes walk of each other in central Brisbane.  The exact location will be confirmed to those that register for the training.
Why this Power BI Training Brisbane is Different/Better
There are quite a few reasons why you would come to Matt's Power BI Brisbane training course, including:
Matt has been recognised as a Microsoft Power BI MVP for 3 years in a row. This award is in recognition of the leadership role Matt plays in the field of Power BI.
Matt has written the best book for Excel users to learn Power BI (read the book reviews here).   The latest version of the book is called Supercharge Power BI (and previous edition "Learn to Write DAX – book reviews here) and has global sales totalling more than 10,000 copies world wide.
Matt has spent 25 years working in business roles and also 10 years working in IT.  This unusual combination gives Matt a valuable and unique insight into how these 2 parts of a business operate.  Self Service BI is a tool that crosses into both IT and business, and Matt's insights allow him to explain things in a way that others can't do.
There are very few people in Australia that know Power BI, DAX and Power Query as deeply as Matt, and are also able to clearly explain it to others.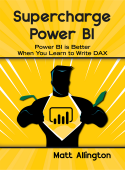 Those that come to the Power BI training will receive a copy of the best Power BI book "Supercharge Power BI".  With this book you can continue your learning after the live training using the same familiar learning style covered in the course.
Full details of the course are covered in this downloadable course brochure.