Matt Allington has been delivering Sydney Power BI training for more than 4 years and has more experience teaching Power BI than any other person in Australia.  Matt is a Microsoft Power BI MVP based in Sydney Australia.There are 6-8 training courses each year normally held in the North Sydney Training Centre.
Power BI is Microsoft's powerful new data analytics tool that takes the old world of just using Excel to a whole new level.  Among many other things, Microsoft Power BI has the ability to:
Create reports that can be refreshed with a single click – no more 'cutting and pasting' from CSV files to rebuild the report each month.
Create engaging visualisations that make the end users WANT to read your reports.
During Matt's Sydney Microsoft Power BI training, you will gain a solid understanding of what you need to know to be good using this tool. With our hands-on training approach, you will learn how easily it is to:
Load data from various sources
Reshape the data so it is usable inside your reports.
Build the reports using the very latest features that are included in Power BI
Share the report with others inside and outside your organisation.
Learn how to use the DAX language (the language of Power BI and Power Pivot) to enhance the raw data so that you can extract the maximum analytics value for the business.
Power BI Training Sydney Location
What makes this Power BI Training Sydney's best
You have a choice when selecting training providers.  Reasons you would come to Matt's Power BI training Sydney course include:
Matt has been recognised by Microsoft as a leader in the field of Power BI for 3 years in a row through the Microsoft MVP programme.
Matt is the author of the best selling book Supercharge Power BI (and previous edition "Learn to Write DAX) with sales totalling more than 10,000 copies world wide.
Matt has 25 years' business experience and 10 years' IT experience giving him a unique insight into the critical cross over areas (business and technical) that are fundamental for successful self service data analytics.
There are few people in Australia that know Power BI, Power Query and DAX as deeply as Matt.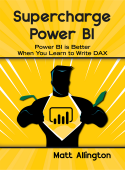 Every participant will receive a copy of the book "Supercharge Power BI".  With a copy of Matt's popular Power BI Book you can continue your learning after the live training using the same familiar learning style covered in the course.
Full details of the course are covered in this downloadable course brochure.