Matt Allington has been delivering Power BI training for more than 5 years and has more experience teaching Power BI than any other person in Australia. Matt Allington is a Microsoft MVP (Power BI) and is the author of the best selling book Supercharge Power BI. Matt developed a quality-targeted curriculum that will help you become competent in Power BI quickly and painlessly. This course will be delivered by Matt Allington or one of his accredited trainers.  This is a 2 day training course – the topics covered are outlined in the detail below.
Microsoft Power BI has the ability to do many wonderful things that will blow your mind, including:
Create reports that can be refreshed with a single click – no more 'cutting and pasting' from CSV files to rebuild the report each month.
Create engaging visualisations that make the end users WANT to read your reports.
Derive data insights from the raw data with data modelling and visualisations that facilitates ease of decision making by the consumers of the reports.
During the Adelaide Power BI training, you will learn what you need to know so you can be great at using this tool. With the hands-on inclusive training approach, you will learn to:
Load data from various sources.
Reshape the data so it is usable inside your reports.
Build the reports using the very latest features that are included in Power BI
Share the reports with others inside and outside your organisation.
Create dashboards on Power BI.com.
Learn the DAX language (the data modelling language of Power BI). Unless you learn how to write DAX, you will get limited benefit from using Power BI.
Data modelling with DAX in Power BI.
Power BI Training Adelaide Location
The exact location will be confirmed to those that register for the training.
What Makes Matt's Power BI Training Great?
There are quite a few reasons why you would come to this Power BI Adelaide training course, including:
Matt has been recognised by Microsoft as a Power BI leader since 2016 through the Microsoft MVP programme. As a Microsoft MVP, Matt gets access directly to the Power BI developer team and this provides deep insights into the way the product works.
Matt has written 3 versions of the best selling book Supercharge Power BI (and previous edition "Learn to Write DAX") . These books have sold more than 15,000 copies world wide. If you take a look at the reviews on Amazon.com you will see that the people that have read this book find it the easiest to read, learn and importantly, to understand.
Matt has worked in business roles and also IT roles, giving him a unique insight into the critical cross over areas (business and technical) that are fundamental for successful self service data analytics.
Matt can explain Power BI, Power Query and DAX better than most and has designed the training content in a way that you will understand.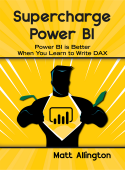 Those that come to the Power BI training will receive a copy of the best Power BI book "Supercharge Power BI" on the second day of the training.  With this book you can continue your learning after the live training using the same familiar learning style covered in the course.
Full details of the course are covered in this downloadable course brochure.