Best in Class Instructor Led Power BI Online Training
Excelerator BI now offers its 2 day live training course as a virtual, on-line, instructor led training course.  You get the exact, same great content delivered live by a skilled trainer, but you can attend from the comfort of your home or office from any geographic location.
Why this Course is Different/Better
Not all Power BI training is created equal.  This training course was developed by Matt Allington who is a Microsoft MVP (Power BI) and author of the best selling book Supercharge Power BI. The training is delivered live, online, by an accredited Power BI trainer.  The curriculum of this course has been designed to make complicated concepts easy to understand.  Each participant of the second day of training will receive a copy of Matt's book so they can continue the learning journey after the course.
Course Content
The complete course is delivered in 2 modules and the course coverage is as given below.
Module 1 – Foundations of Power BI – Data to Dashboard (6.5 CPD hours)
Module 2 – Extracting Data Insights with Power BI and DAX (6.5 CPD hours)
Power BI for the Business Analyst (Module 1 & 2) –  6.5+6.5 = 13 CPD hours
The 2 introductory modules can be taken back to back, or separately as individual modules. It is recommended for most people to attend the comprehensive Module 1 & 2 course "Power BI for the Business Analyst" in most cases.
Foundations of Power BI – Data to Dashboard (Module 1)
In this first module you will cover all you need to know to start using the Power BI suite of tools without needing to be a programmer. The topics include:
How to use Power BI Desktop.
In depth coverage of building visuals and reports using Power BI Desktop.
Creating dashboards on Power BI.com.
Sharing your reports with dashboards and work spaces using PowerBI.com.
Introduction to Power Query, and hands on learning of several reusable patterns that cover common use cases for loading ad hoc data.
Extracting Data Insights with Power BI and DAX (Module 2)
Power BI being a self-service BI tool is well implemented only when you bring out the data insights from the raw data that could be visualised by decision makers. This second module goes on to teach business analysts how to model data using Power BI so as to extract insights. Unlike some other learning resources, this course dives deep into the details of Power BI Data Modelling with DAX (the data modelling language of Power BI), teaching you everything you really need to know to get started with extracting data insights using Power BI.
The term "Data Modelling" is not something that is familiar to most Excel Pros, and that is because data modelling has historically been done by IT. But if you want to be good with Power BI, you must learn how to become a data modeller – this is exactly what you will learn in this class. Although the concepts are difficult to pick up via self learning, the expert approach from this live training course makes it accessible to any Excel Pro. The topics include
Overview of the DAX language (Data Analysis Expressions).
Common functions in the DAX language.
How to write formulas that leverage multiple tables.
The CALCULATE function – the most important function in DAX.
Advanced concepts including table functions such as ALL, FILTER.
Time Intelligence
After completing both modules, you will be well on you way to becoming a Power BI ninja.
All participants will receive the certificate of completion at the end of the course.
Participants registered for module 2 will receive copies of the eBooks "Supercharge Power BI" and "Supercharge Excel". With these books you can continue your learning after the live training using the same familiar learning style covered in the course.  Note:  If you are based in Australia or the USA, you will also receive paperback version of the book "Supercharge Power BI".  If you are located in other countries, you will only receive the eBooks.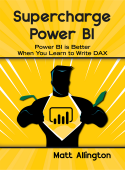 Full details of the course are covered in this downloadable course brochure.
Click here to download the brochure