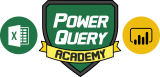 Power Query is a revolutionary tool to help Excel and Power BI Professionals get easy access to the data they need to do their job.  Power Query is easy to learn, and you can super charge your learning experience with this Online Training course specifically targeted to you.
Power Query Academy course is made available at http://skillwave.training  by Matt Allington (Author of the best selling books Supercharge Power BI and Supercharge Excel) in partnership with Ken Puls and Miguel Escobar (of M is for Data Monkey and Power Query Academy fame).
Power Query Academy course is developed by Ken Puls, Miguel Escobar, and Matt Allington, three of the world's leading business intelligence experts. The course is of more than 21.5 hrs. total duration.
Matt's Power Query content is integrated with the Power Query Academy content.
You can find the course content here.
Try the Free Course
Yes, you heard it right! Try the Power Query Fundamentals course (more than 2.5 hrs.) for free with no obligation and then go ahead for next level of learning if you want to.
You can get more details here. https://www.skillwave.training/courses/power-query-fundamentals/
Where to Purchase
If you would like to purchase Power Query Academy, head over to https://www.skillwave.training/shop/power-query-academy/.