One thing I often get asked is "How do I create good looking Power BI Reports?".  This is a very good question and unfortunately the answer is not straight forward.  I like to think of the visual appeal as the "Art" of communicating data insights.  The other major consideration is "what and how" to communicate – I think of this as the "Science" of communicating data insights.  If you assume these categories, then it implies that you need to possess both graphic design skills as well as data analytics skills to be the best in class in this space – a tall order indeed.    Realistically most Power BI Desktop report authors are more likely to be into the science of data than the art, but that doesn't mean you can't improve the look and feel of your reports by compensating for any gaps in your artistic skill.  There are at least 3 ways you can improve the visual appeal of your power bi report.
Get someone else to do it for you (ie a graphic designer). I can think of at least one of my clients that always has stunning reports.  When I asked why they look so good I was told the graphics department polishes the reports – well worth considering if you have access to such a resource.
Learn from what other people do and copy what you like (I call this the CASE method – Copy And Steal Everything). 🙂
Do some formal training/learning – out of scope for this post.
Here are a few sources I can think of for inspiration in learning from others.
Power BI Monthly Updates
Every month Microsoft releases a new version of Power BI Desktop.  Along with the update, Amanda Cofsky (it's normally Amanda) produces a video demonstrating the new features in a sample workbook.  In the month of Sept-18 I became curious about the appealing visuals that Amanda had in her sample file.  See a screenshot of the power bi report below.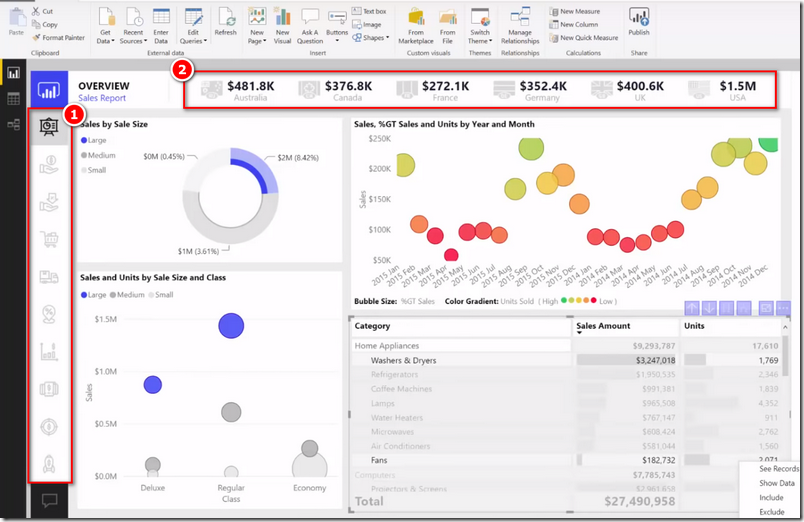 Notice the inviting icons to the left of the report and along the top of the page.  I immediately became curious and asked Amanda what she had done and how it worked.  Amanda got back to me and I learnt a few things that I am sharing with you here.  Firstly the sample workbooks Amanda uses are shared and available for download via GitHub.  https://github.com/Microsoft/powerbi-desktop-samples/tree/master/2018 I couldn't find this exact workbook, but the one titled Sept – New Format is pretty close and shows the concept.  Secondly the really nice looking icons used above have come from https://www.flaticon.com/ .  Don't underestimate a bit of bling to make a report look appealing and inviting.  Adding great looking clickable icons can make all the difference in reader engagement.
If you want to dig deeper into the way this report was built and what the icons do when clicked, check out this video produced by Miguel Myers https://youtu.be/34pBbd92BQI
Power BI Partner Showcase
This is another great resource for finding ideas about what other people are doing.  The example below was developed by my friends over at Agile Analytics and demonstrates one of many ways to communicate data.
You can see this and a lot more at  https://powerbi.microsoft.com/en-us/partner-showcase/
Power BI Tips
Yet another great source for visual inspiration is PowerBI.tips.  This site is run by Seth Bauer and Mike Carlo, 2 of the many active Power BI MVPs.  I really like the concept of creating a report background template to help give the report some structure and consistent appeal.  You can see an example below and visit the site for a full list of templates here https://powerbi.tips/layouts/
Custom Themes
Finally, many companies have corporate colour themes that they use internally for their commutations.  You can use the custom themes feature of Power BI to create a standard theme for use across your Power BI reports. Mike and Seth have a great online tool to help you create your own custom theme if you like.  I have a blog article that describe how to use the theme generator at https://exceleratorbi.com.au/changing-defaults-in-power-bi/  My article describes how to use the theme generator created by Mike and Seth and how to deploy the theme.
Be aware that a custom theme in Power BI is not the same as in PowerPoint.  A custom them only affects the visual styling of the objects in the report (colour, font size, border width etc).  If you want to set a standard page background etc, you will need to create a Power BI template with a custom theme applied to it and go from there.
What are your tips?
I would love to hear from you about the places you use for inspiration for your Power BI reports.  Please share your tips in the comments section below.