Level: Beginners
Edit: Sep 2019
I really love Power BI, and I have learnt so much over the last 12 months that sometimes it is easy to forget the challenges I had in getting started.
Today I am sharing my top 10 tips on how to get started with Power BI.
Build Your Reports in Power BI Desktop, Not the Service
One thing that can be confusing is that there are 2 ways you can build reports – Power BI Desktop and Power BI Service.  My first tip is that you should always use Power BI Desktop.  Reasons include:
There are more configuration capabilities in Power BI Desktop
You can upload changes made in Power BI Desktop to the Service, but you can't download changes made in Power BI Service to the desktop.
There is currently no way to back up your changes in Power BI Service, but you can back up Power BI Desktop yourself.
Don't Try to Replicate What You Do in Traditional Excel
Power BI is not the same as Excel, and hence you should not start out trying to simply replicate what you currently do in Excel.  The closest thing in Excel to Power BI is the Pivot Table (probably Pivot Charts actually).  The key similarity here is that a Pivot Table is an aggregation and summarisation visualisation tool – this is exactly what Power BI is too.  Yet there is no Pivot Table object currently available in Power BI.  The closest thing to a Pivot Table in Power BI is the Matrix, yet if you start using the Matrix with the view of replicating a Pivot Table, then you are bound to be disappointed.  Hence you should explore the other options (to your great delight).  See the next tip.
Explore the Visualisations to Understand Capabilities
Instead of replicating what you do in Excel, I recommend that you explore the various visualisations to see what each of them does.  There are lots of new visualisations that don't exist in Excel, and some of these are very effective in helping you communicate the insights in data.  A great place to start is the Tree Map or a Column Chart.  You can get these visualisations to behave just like a Pivot Table in Excel.  Just place a number of summary levels into the visual (see the Axis section in the image below), then you can drill through the visual just like a Pivot Table.  It is a great experience.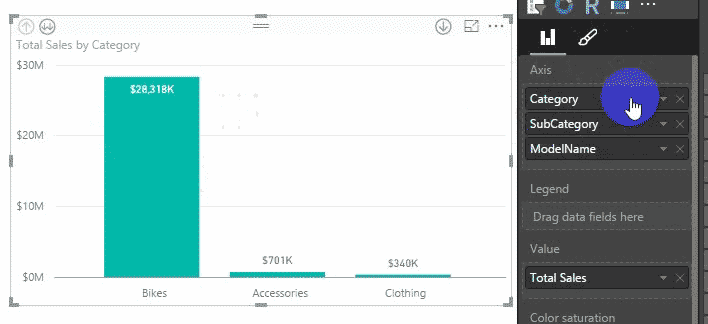 You should also check out the Custom Visuals Gallery for some of the great free tools that have been shared with the community by industry leading experts.
Understand the Purpose of Your Report, Then Find a Way to Build It
A common mistake is to start out thinking that you should simply replicate what you have previously built in Excel.  As covered above, this approach will limit your thinking and make the journey so much harder.  Instead I recommend you start out by thinking about the purpose of your report.  You need to be clear "What" you are trying to communicate, "How" the user will consume the information, and what business decisions will be made with the data.  If you can write down a couple of sentences about the purpose of your report, that is even better.  Once you are clear on the purpose, then set about finding the best visualisations and techniques to achieve the best outcome  that delivers on the purpose of the report.
Assume Your Current Data Shape is  Not Ideal for Power BI
Many Excel professionals make a fundamental mistake by simply loading data from their current source systems into Power BI as is.  The most common issue I find when helping people with their DAX problems is they don't have a good data structure.  There is a big difference between transactional business systems and BI reporting tools.  If you want your reporting tools to be easy to use, easy to enhance and to perform well, then you really need to understand the data structure needed by BI Reporting tools.  I wrote a separate article about data shape here.
Assume Calculated Columns are Not What You Need
Self taught Power BI users from an Excel background tend to make the mistake of writing far too many calculated columns.  I have hardly ever seen a calculated column from a self taught user where it was "the correct decision" – in almost all cases the calculated column should have been written as a measure.  I cover this topic in a lot more detail here.  I generally recommend (to Excel users) that you should assume your formulas should be written as measures unless you know for sure why it needs to be a calculated column.
Learn How Cross Filtering Works, and How to Turn it Off
Cross filtering is one of the great features of Power BI, and you should learn how it works so you can use it to your advantage.  However in my experience the default cross filtering behaviour is not always the best experience for the user.  In a recent release, Microsoft deployed a feature that allows you to turn off (or change) the cross filtering behaviour between visualisations.
Once you select a visualisation (1 below), the "format" menu (2 below) appears at the top of the page.  From there you can select "Edit Interactions" (3 below) to change the default cross filtering behaviour.  It is easy to work out how to do it, so just give it a go and learn by doing.
Load Content to be Shared into a Group Workspace
If you intend to share data with others, make sure you load the content into a Group Workspace right from the start. I have found it is much easier to keep control of data that you intend to share if you do this.  Of course at times you may be working on something in your own Workspace and want to share it, and that is fine to do.  However if you are starting out with the intention of sharing data, then the Group Workspace is the way to go.  I cover the topic of workspaces and sharing in some depth here.
Learn to Write DAX
At some time early in your journey you will discover that there is a limit to what you can do using the automated summarisation techniques that come with Power BI.  Data Analysis eXpressions (DAX) is the language of Power BI.  DAX has a lot of similarities with Excel formulas however there is a lot to learn and it is not always intuitive.  If you want to turbo charge your Power BI journey, you really do need to do some formal learning.  I recommend you read my book "Supercharge Power BI" as a cheap and easy way to make rapid progress.   Many Excel professionals tell me that they wish they started with my book first, and it would have saved them a world of pain.  If you want a more guided learning, you can enrol to my Supercharge Power BI Online training.
Learn to Use Power Query
Power Query (get and transform data) helps you automate your repetitive mundane tasks of data cleaning and shaping. If you want a comprehensive lesson on how to use Power Query, checkout my Power Query Online training. You can learn tricks and tips to use on Power Query with illustrative examples. All the examples demoed in the course are also available to download in the course material so that you can practice along as you view the videos for an in-depth understanding of the concepts.