This is an off topic post for me (ie not Power BI), but then again – who doesn't want to be more productive, right? I am a heavily process driven person and I like to organise and plan my days, weeks and months so I can be as productive as I can be. I wasn't always good managing my work effort, at least until I read the book "The 10 Natural Laws of Successful Time and Live Management" by Hyrum Smith. I highly recommend this book (and also the Franklin Planner by the Covey Corporation if you are in to paper based planning tools).
The Benefits I Extract from My Approach to Planning
My approach to planning works because it is a combination of process and a tool to support the process (almost). The benefits I gain from using this process include:
Nothing slips through the cracks.
I don't get overwhelmed by lots of "noise" from a very long to-do list. I just focus on what I need to work on now and give myself headspace to not think about everything else.
I plan my week to make sure I get the most important things done.
I plan my day to ensure that I "just do it".
The Key Principles I Use for Good Planning
There are a few key principles that I learnt from the resources above that I still use in my personal productively planning, specifically:
It's not enough to simply plan each day – you need a longer planning horizon if you want to get the right stuff done.

Focus your time on what is important as well as what is urgent. 

Urgent and important tasks are easy, not urgent and important tasks are much harder (for most people).

You need 1 list of things to do for the day – don't try to manage personal tasks in a different list to your work tasks.
Don't let your email inbox control your day (or worse, week or month or year, or life).
Once you know what you need to do, make a plan for the coming week.  Let me be clear here – plan for the entire week, not just 1 day.
Once you have a weekly plan, revise it daily, and schedule the work each day so that it gets done.
I used the manual Franklin Planner tools to plan for many years, then moved to an electronic version of the same tool while it was available. I don't think this software is still available, but I have moved on from it anyway due to some other issues I faced.
Microsoft ToDo To The Rescue – Almost!
Actually, Microsoft ToDo has quite some limitations in my view at the time of this writing. The most notable of which is that you can't plan your week – you can only plan your day. What's worse, you can't plan your day for "tomorrow", you can only plan your day from 12:01 am on the day. Now don't go saying that "there is a due date" feature in Microsoft ToDo – I know that already. But a due date and a work plan are not the same thing. I have to get my tax in by the end of the quarter, but I plan to do most of the work during the week starting the 15th of the month. Due dates and scheduling work are 2 completely different things.
There are also limitations with Microsoft ToDo in the ability to share lists with family members (something that was dead easy with Wunderlist – the product Microsoft purchased to create ToDo).
Despite these limitations, I have added my own processes on top of the tool so that I can successfully use Microsoft ToDo to plan my work and life.
Here Are My Standard Lists
I have a number of standard lists set up and grouped as shown below.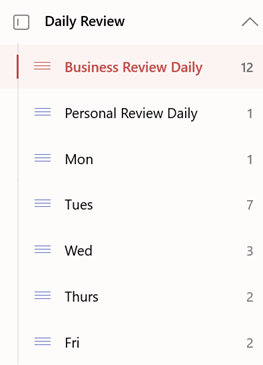 In my copy of Microsoft ToDo, the daily review group (on the left, above) sits above the weekly/monthly review group (on the right, above).
I will explain what I do with each list below. They all have a purpose as part of my planning process.
Annual Planning Process
I won't go into all the background from the book I mentioned above, but in short, you should set yourself some objectives for the year. These can be your work objectives, but also hopefully some personal objectives.
Create a list of everything you want to do and add it to a list. I put all of my annual plans either into my:
Personal Monthly Review List
Business Monthly Review List
In addition to this structured annual planning, I create new to-do items for myself, all day long. These automatically get added to the "Tasks" list in Microsoft ToDo. I schedule these new items into my plans as part of my daily review process covered later in this article.
Breaking my business and personal tasks into 2 lists just helps me find what I am looking for more easily.
Monthly Planning Process
Every month, on the first Monday of the month, I review every single task in both of these monthly lists.
I decide that I will either "do it this month", or "not do it this month".
If I decide to do it, I move the task from the monthly review list to my Weekly Review List (either personal or business).
I do this without fail on the first Monday of the new month.
Note:  This means that I have to be careful about tasks due on the 6th of the month, as some months I wont review this list until the 7th of the month (latest possible review date if I always do it on a Monday).  You could always do it on the first business day of the month too, if you wanted to.
As long as you follow the process, nothing will slip through the cracks. Note: I actually have a "Maybe One Day" list too. Sometimes a task drops in priority where I know I am not going to do it any time soon. I either delete it immediately, or sometimes I move it into my "Maybe One Day" list (which I review irregularly).
Weekly Review Process
Part 1: What Will I Focus On This Week?
I have 2 weekly review lists
Personal Weekly Review List
Business Weekly Review List
Every week, on the Monday, I review every single task in both of these lists.
I decide that I will either "do it this week", or "not do it this week".
If I decide to do it, I move the task from the weekly review list to my daily review list (either personal or business).
I do this without fail every Monday morning.
Sometimes I decide to "demote" a task from my weekly review list to my monthly review list. These are typically things that I thought I would do at some stage, but now it doesn't seem so important. Moving it from the weekly review to the monthly review clears my head and gives me permission to "not think about it again" until the start of the next month.
Once again, as long as you follow the process, nothing will slip through the cracks.
Part 2: Plan my week
The second part of the weekly planning process is to plan my current week. I do the following:
Look at everything in the 2 daily lists
Business Review Daily
Personal Review Daily
I decide if I am going to do (or attempt to do) each item this week.
If yes, I may select a day I want to work on that item – I just move it into the appropriate day list (Mo, Tu, We, Th, Fri). Or I may just leave it in the daily review list.
If no, I move it back to the weekly review list – that way I don't have to worry about it again until next Monday, once again giving me permission not to have to think about it again until next week.
Once this process is finished, my entire "Daily Review" section contains only the things I want to do this week. I don't have to worry about anything I need to do next week, or next month – I can instead clear my head of worrying about those things and instead just focus on this week. As long as I follow the weekly and monthly review process, nothing will slip through the cracks.
Daily Review Process
I actually keep a list of my daily review process at the top of my daily review list (as shown below).
The daily review process is as follows.
First clean out my inbox (yes, I mean clean it out – nothing should be left). Either act on the email or create a task to do so.
Check for any new tasks created since yesterday. By default, they get added to the "Tasks" list. I move them from the Task list to daily, weekly or monthly lists as appropriate.
Go to the Daily Review Lists to check for anything new that I want to do today. Mark them as "My Day" if I want to do them today.
Go to the "day folder" for the current day of week. Mark all items as "My Day", or move them to another day, or back to the daily review lists.
Move any item that is in a "passed day" list back into the daily review list, or into a future day for this week.
Look at my calls for the next 2 days and add any prep-tasks I may need to do. Actually I normally do this when I book the meetings.

Change the sort order of My Day into the order I want to complete the tasks

This does not have to be "most important" to "least important", in fact it seldom is.
I plan the order of execution of my day based on what works for me; what I want to do and don't want to do.
I often try to do the things I don't want to do first, and then take a "mental break" by doing things I do want to do later, but that's just me .
Daily Execution – Just Do It!
Throughout the day I will normally have booked meetings in my calendar, ad hoc phone calls, new emails (urgent or not), etc. I spend all my time working on the "My Day" list in ToDo in the first instance. I try to flick back to my inbox a few times throughout the day to catch anything that needs my attention. If I can respond to it in 1-2 minutes, I may do it immediately. If it is a longer thing, I turn it into a task, remove it from my inbox and plan it in with my other work.
If you are easily distracted, you can shut down your email and set an alarm/appointment on your phone to check later in the day.
My Planning Process Just Works
And that's it – it just works. Give it a try and see how you go. Let me know if it helps you be more productive, and/or if you have any tips on how I can improve my process.