Level: Beginners
It is now possible to share your (public) reports from PowerBI.com with anyone over the internet for free (currently a free preview), without the need to manage licencing, logins etc (see demo below). Microsoft has been promising this feature for a couple of months now and the speed in which these new features continue to arrive continues to amaze.  The official name for this new feature is Power BI Publish to Web.
Why is this Genius?
I think this is genius for 2 reasons.
Sharing video files across the internet used to be a problem.  Then YouTube came along and solved the problem (YouTube is now valued at up to $40B at the time of this post). Exactly the same is true for sharing interactive data analysis reports.   Microsoft just solved this same problem for interactive reporting online with Power BI Public Story Telling.
The second reason is it is marketing genius.  In no time flat, people will be sharing reports on the web using this service (see my example below).  This is going to make Power BI visible to an exponential increase in potential users.  People will be saying "How did you do that", "How can I do that" etc.  Mark my words, this will be the start of an exponential increase in awareness and demand for Power BI.
Power BI Public Story Telling Demo
I decided to enter this contest as part of my community participation with Power BI.  The competition was to enter your "best" Power BI report – a big ask when most people can't share private data.  I looked at what public data I had and decided to replicate a report I built for a client (A Business Driver Chart) to help understand what was driving its top line business results.
Business Driver Chart Demo using the Power BI Public Story Telling service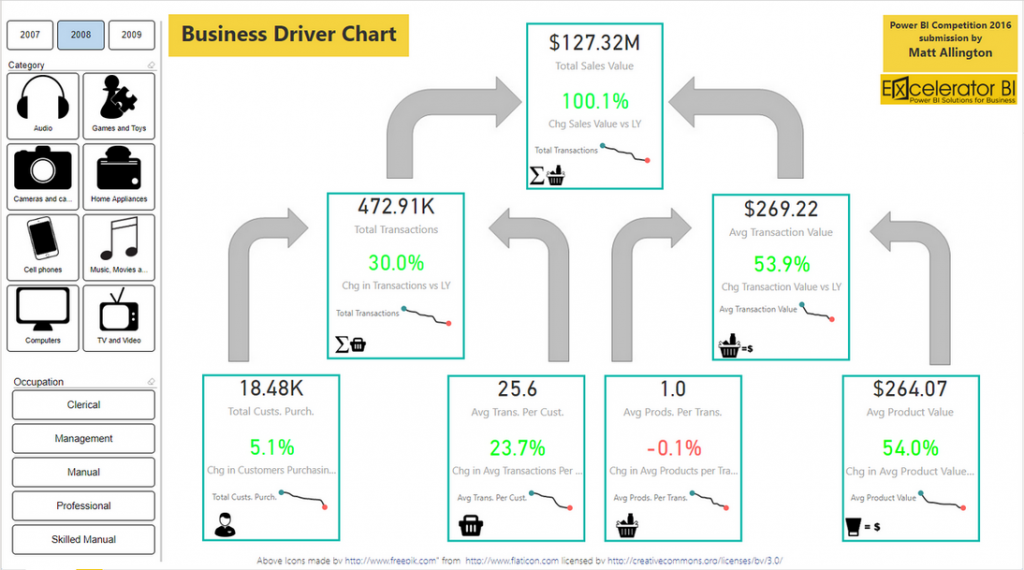 And so here is a link to the demo using the new Public Story Telling service.  You can read about how I did this further down this page.  I tried to embed the service in this page (the one you are reading now) and it did work – sort of.  Unfortunately the scaling and re-sizing of the report didn't work very well (mainly the embedded images).  This public story telling service is still in preview and some of these issues will be ironed out over time (that is what a free preview is all about after all).  So instead of embedding the report as a smaller (poorly scaled) object on this page, I put the report on a full width page at the link above.
Edit:  4 Feb '15.  I just got notification that I didn't make the final 10, but that my entry impressed and will be included in the community PBI Showcase forum after the contest ends.
Video Demo
Here is the YouTube video explaining how it works.
How I Loaded my Demo to the Service
Using the Power BI Public Story Telling service couldn't be easier.  You can do it with any report that you have loaded at PowerBI.com (you can't do it from the desktop).
Navigate to your report on PowerBI.com and then click FilePublish to Web.
Click "Create embed code".
Acknowledge the warning message (that the data will be public) and then copy the code you need from the dialog (shown below).
Use the code from above to insert the Public Story Telling service into any website, tweet, email or virtually any other way you want to share.
After it is loaded, you can access the URL (or delete it) from the settings option as shown below
Then click on the ellipsis (Shown as 1 below) and you can get a copy of the link or delete the link (2).  Oh and did I mention this is all free (at least during the preview) shown in 3 below?
At the end of the free preview?
What will  happen at the end preview is anyone's guess.  I hope Microsoft keeps this service free.  As I mentioned above, I think the marketing benefits alone will justify this approach.  But there is also the community good having such a service available for free.  I am betting MS will keep it free, but let's wait and see.
Also I think this is a sign of things to come.  Prior to this new functionality, it was not possible to share a report with anyone that did not have the same email address domain.  It is common for people to want to share private reports with people on different email domains (ie share with contractors, partners etc).  My assumption is that the work done here on the Power BI Public Story Telling service leaves Microsoft just a couple of steps away from allowing anyone to share private reports with people that have different email domains.  Watch this space.
Edit:11 Feb '16. As predicted, the sharing of private reports was released today. https://powerbi.microsoft.com/en-us/blog/power-bi-february-service-update/
Edit: 9th July '16. Here are the measures I used to produce this visualisation if you want to see how I did it.