I'm sure many of you will already know that today is Power BI's 5th birthday. It has been another great year of development by the Power BI team at Microsoft and the product has literally become so compelling that virtually every organisation should be considering deploying this tool.
I cite just 2 pieces of evidence that Power BI is a freight train phenomenon.
1. Google Trends
I first shared a Google Trends chart about Power BI back in 2014 (well, it was only Power Pivot back then).
Here it is again
Power Pivot was released around 2011, hence the reason I started this chart from that year.  You can see from the chart that there has been a bit of a Covid effect this year, but apart from that, it is strength to strength. It's also nice to see a small uptick in Power Query interest, too.
2. And then there is Gartner
As you can see in the image below, Microsoft has been getting better and better each year as recognised by the Gartner Magic Quadrant for BI.


Is it any wonder that Tableau has been sold to Salesforce.com? Good move I think – time to get out!
You can read about how I created this image in my original blog post.
My Celebration Logos
Chances are you probably don't know this, but I have been working with my daughter, Maddie each year (she's a graphic designer) to produce an annual happy birthday Power BI logo since Power BI was just 2.
(I didn't love Power BI when she was 1 🙂 ).
Here are the previous year's birthday logos
I think this year's is the best (see below).
I liked it so much that I used the logo and made it into a limited edition T-Shirt for some of my friends (sorry, I couldn't make enough for everyone). Here is the T-Shirt being modelled by some of my friends, Tina and MooBoy (aka Gilbert).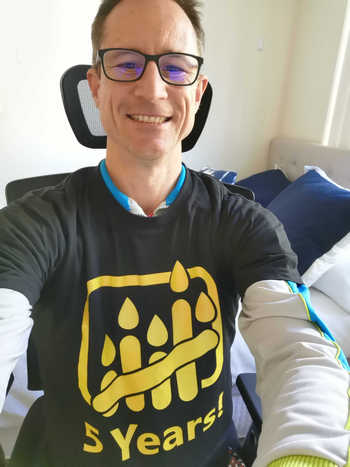 Interested to get one?
Now I'm not looking at moving into the apparel business, nor to make any money from this, but it occurred to me that some people may want one of these T-Shirts. Unfortunately with small quantities, the prices are not super cheap, especially in Australia. I am considering printing some more if there are enough people interested in buying one. I will likely only produce them in the USA and Australia, and the delivered prices will be US$25 and AU$50 respectively. So if you are interested to buy one, please order in my shop by Fri 14th August.
Happy Birthday!