Updated Feb 2019.  This is an edited version of my original article which first appeared on my site in Feb 2016.
The rate of change in the tools available to a Business Analyst has never been faster than it is today.  The market is changing so quickly that many Business Analysts (BAs) are only just becoming aware of the great new tools that are available to help them succeed in their jobs and careers.  Regular readers of my blog will already know what is hot, but let me cover off a bit of background to what is happening for the benefit of others before I answer the question about what training a BA should be doing (jump directly to the bottom of the page if you can't wait that long).
I am going to cover:
what is hot in the Analytics Market right now and why you should care,
what Gartner says about the players in the Analytics Market,
what skills and training Analysts should be focusing on,
and then finally how you can learn from me.
What's Hot? Power BI is Hot – That's What!
Power BI is the name Microsoft has given to a number of specific products as well as an umbrella term for its suite of Self Service Business Intelligence tools that come bundled as a product.
Specific Products
There are 3 specific products you need to know about.
This is the free Power BI authoring tool that allows you to build your own data models with your own data, and then quickly and easily analyse the data to find insights. You can distribute your analysis for free to other people (just like an Excel workbook) or publish directly to the Power BI Service (PowerBI.com) with just a couple of clicks and share from there (with a pro licence).
This is the cloud version of Power BI that makes sharing live business analytics a snap. Here is a demo I built a few years back.  The Power BI Service makes sharing live interactive BI reports very easy. You can create dashboards, view the quick insights generated for you and even connect the Power BI Service to Excel and build thin Excel reports  on you PC without duplicating the data.
This is the free mobile tool that allows you to consume any of the reports that are available to you in the Power BI Service.
There are versions of the software for all major tablets and smart phones.
Umbrella Products
Power BI Data Modelling
Power BI data modelling allows you to take tables of data, create relationships between those tables so they work together, and then enhance the data model so that it includes specific calculations that turn your raw data into useful business insights.  This work has historically been done by the IT department, however it can now be done by competent business users using the Power BI data modeling language – DAX (Data Analysis Expressions).
DAX is available in Excel 2010+, SSAS 2012+, and Power BI Desktop/Service.  It is the same across all of these products.  If you learn it once, you can use the same skills across all of these products.
If you want guided learning of Power BI data modelling, checkout my Supercharge Power BI (DAX) Online Training.
Power Query
Power Query is a data acquisition and transformation tool.  It helps business users grab data from anywhere it resides, then cleanse, reshape and prepare the data ready for the analytics work to come – no IT guru needed any more. Power Query is a user interface driven tool that makes is easy for anyone to manage and load data, however it is supported by a powerful programming language 'M' that makes it super powerful.  You can read more about Power Query here.
Power Query is available in Excel 2010+ and Power BI Desktop/Service.  It  (annoyingly) has been renamed "Get & Transform" in Excel 2016 and "Get Data" in Power BI Desktop.  What were they thinking?
If you want a comprehensive lesson on how to use Power Query, checkout my Power Query Online Training.
Power BI Reports

Power BI provides a wide variety of visualizations to portray the data insights in reports. In addition, Power BI supports custom visualizations, and several integrations such as esri, R, Python, etc. Power BI has several formatting options for the reports enabling the end-user comprehend the data effectively.
Power BI reports can be prepared in Power BI Desktop and then be shared in various ways. It is also possible to create dashboards in Power BI.com using the report elements in an easy way.
If you want to learn how to use Power BI to create reports and dashboards and share them, checkout my Data to Dashboard Online Training.
So why should you care?
Well the answer to that question is easy.  Either you are going to excel using these tools, or someone else will instead.  These tools come from Microsoft, and as you will read below, Gartner has already recognised the leading position Microsoft is in right now.  So get on board now – don't wait.
Gartner Insights to the Market
Gartner has recently released its 2019 update to its Magic Quadrant for Business Intelligence and Analytics Platforms.  This document contains a very detailed review of Business Intelligence vendors and products, and you can download a copy yourself here if you are interested in this detail.  But let me call out the significant observations I made when reading this report.
Modern analytics and BI platforms are now mainstream purchases for which key differentiators are augmented analytics and support for Mode 1 reporting in a single platform. This Magic Quadrant will help data and analytics leaders complement their existing solutions or move to an entirely new vendor.
Microsoft offers data preparation, visual-based data discovery, interactive dashboards and augmented analytics via a single product, Power BI. It is available as a SaaS option running in the Azure cloud or as an on-premises option in Power BI Report Server. Power BI Desktop can be used as a stand-alone, free personal analysis tool. It is also required when power users are authoring complex data mashups involving on-premises data sources.
Although Power BI started out being used primarily as a self-service analytics and BI tool, Microsoft's reference customers now use it mainly for decentralised analytics (61%) and agile, centralised BI provisioning (54%).
Microsoft is a Leader. It has a comprehensive and visionary product roadmap aimed at globalising and democratising Power BI for all analytics use cases. At the same time, it continues to demonstrate strong uptake and global adoption of Power BI, with high levels of customer satisfaction.
Gartner has succinctly stated the strengths of Microsoft Power BI space.
Low-priced incumbent with positive sales experience
Ease of use for complex types of analysis
Comprehensive product vision
Hallelujah – thank goodness someone has said it so well.  Gartner is not saying that companies should throw out their existing investments in Enterprise BI, but they also cannot/should not continue to ignore the Self Service revolution that is here already.
Microsoft the Undisputed Leader in this Space
Power BI is going through a tremendous growth.  Note how Microsoft has screamed past the pack in the area of "completeness of vision".  This is enough to make anyone that has a Tableau investment shake in their socks.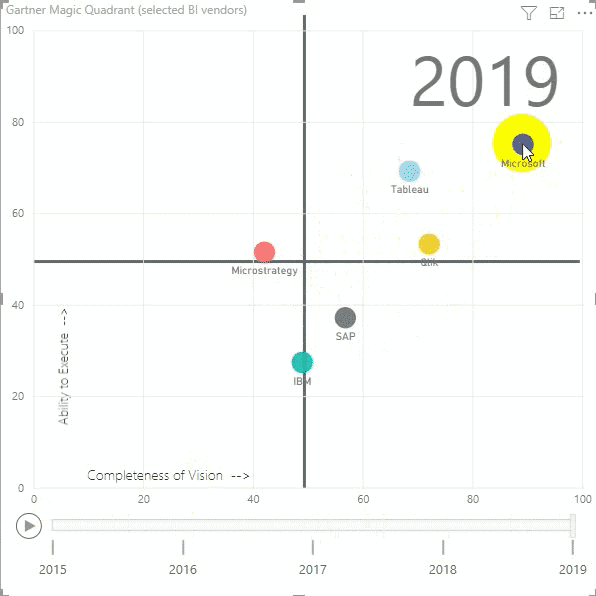 Learning and Training for Business Analysts
Undoubtedly the skills of the future Business Analyst will increasingly include the skills of self service analytics.  Microsoft is not the only company selling self service analytics software, but there are lots of benefits of using the Microsoft tools, including
It is Microsoft, and Microsoft sees this as a strategic part of its future.
Microsoft has deep pockets.
The Power BI Umbrella Products are built based on enormous heritage.  Microsoft has been one of the most successful companies out there in the BI space leading with SQL Server Analysis Services Multi Dimensional. Also Microsoft has the SQL Server Integration Services (SSIS) team that has a long and successful heritage of successful ETL software development.  Though the Power BI Umbrella Products are built from scratch they are built based on Microsoft's in-built knowledge.
Specific Skills and Tools to Learn
Skill Area
Reason it Matters
Building Reports in Power BI
As mentioned above, Power BI is hot and is just going to get hotter.  The fact that the technologies that support Power BI are the same across similar tools, plus it is free for individual use) means adoption is huge. There are 2 main points to note about Power BI.
1. Power BI is easier to share data with others (try sharing a 300MB workbook with someone on a Mobile phone and you will know what I mean).
2. Power BI has improved visualisations.  Microsoft is investing big in an open source visualisation framework which mean that anything Microsoft doesn't get to can be built by the community.  Take a look at the Power BI Visuals Gallery to see what is already available from the community.
Sharing Reports in Power BI Service (Power BI.com)
The reports built in Power BI Desktop can be published Power BI Service and then share those those reports. Power BI Service facilitates creating dashboards and sharing them.
Power Query
Data Acquisition, Transformation & Cleansing Tool
The next problem BAs normally encounter when they go down the Data Modelling path is how to get the data where they need it.  Power Query will help you with the process of acquiring the data, reshaping it, cleansing it, and making the entire process repeatable with the minimum of effort.
Data Modelling (Vertipaq)
Data modelling is the process of preparing data for analysis.  Raw data is seldom in the ideal structure for analysis.  In the past it would have been the IT department that prepared data for analysis (typically through a data mart or data warehouse).  Increasingly in the future (as we move to more and more self service analytics) it will be up to the Business Analyst to do this work.  Data Modelling with Power BI is well within reach of most competent Business Analysts.  It just requires the mastery of DAX (Data Analysis Expressions), the functional language for data modelling in Power BI.
How You Can Learn from Me?
There are lots of different learning styles, and you can pick up any of these options based on your requirement and geographic location.
Reading Books
I have written two books to learn how to write DAX – Supercharge Power BI and Supercharge Excel. Both the books teach you data modelling and the DAX language.   Supercharge Power BI uses Power BI Desktop as the tool whereas Supercharge Excel uses Excel 2016. The skills are entirely transferable between the two software products, the only difference being the UI that is used for illustrations.  If you buy the book from my shop you will get a free copy of the digital editions of both versions included with your purchase for an immediate download.
Training
I offer various Power BI trainings to suit your requirements. Click on the image below to find the details of the courses.
Articles
If you want to keep up with the latest tips, tricks and developments in Power BI, then I recommend you subscribe to my newsletter providing your details below.