Well Covid-19 is a right royal pain in the backside for everyone. Am I right, or am I right? Everyone is effected to some extent, of course some more than others. One implication for me is that no one is able to attend my fantastic live, face to face Power BI training courses for now and into the foreseeable future.  But we haven't been sitting still here at Excelerator BI.  Jason, Ramana and I have been working hard behind the scenes to turn our face to face training courses into online, instructor led Power BI training courses.  We have now finished the work and we are ready to go.  And the good news is that now that we have these live, online course, they are available to anyone, anywhere in the world.
Training Options
I currently have quite a few training options – you can see them all from the link in the next section below.  But I want to highlight the new instructor led online classes here.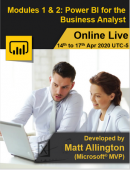 Jason is teaching my 2 day Power BI Class "Power BI for the Business Analyst" next Thur/Fri for the Australian time zones (and other countries in similar zones).  We then have an option for the USA the week following.  This 2 module class is ideal for anyone that has not had any formal training in Power BI and wants to get serious about the tool.
I will personally be running an intermediate to advanced DAX training course that I call "Demystifying DAX" in the next few weeks.  This course is for people that have been using DAX for 6-18 months but have realised that there is a lot more to learn if they want to be good – I can help you with that.
Both of these courses are in addition to my long running "Supercharge Power BI Online" class.  This third class is a semester based video on demand course with weekly reading, exercises and a live weekly Q&A.  Hundreds of people have done this course and they all tell me they love it.
Links to All Classes
As you can see in the image below, I am building out coverage across content areas and delivery types. Hopefully there is something there for everyone.  Over time I will build out more training modules to ensure full coverage across Power BI.  I would love to hear what types of courses you would like to do apart from what I have to offer.
Click here to see the detail for each of these training offerings.
Time Zones and Planned Classes
For now we are catering for 2 time zones, that being Eastern Standard Time in Australia (UTC + 10) and also Central Summer Time in the USA (UTC-5).  And of course anyone that lives in a similar time zone is welcome to attend these classes, albeit with a slightly earlier or later start and finish time, depending on where you are.
You can see all the scheduled class modules, dates and times here.
Is There Any Interest in Europe (UTC +0)?
One thing I would love to know is if there is any interest in the European time zones to hold an online class.  We would be more than willing to slot one in during the coming weeks if there is any demand.  If you are interested, please just add your name in this form  If you are anywhere close to UTC +0 and are interested in attending, then please register your interest in the form below.
One Last Thing
We have 11 people registered for the training course next week in the Australian timezone UTC+10  (maybe some more will register in the next few days).  I have no idea what people will think longer term about attending instructor led, online training vs live face to face training.  I guess we will see.  But if you do have a view about the merits of one or the other, I would love to hear your opinions either way in the comments below.